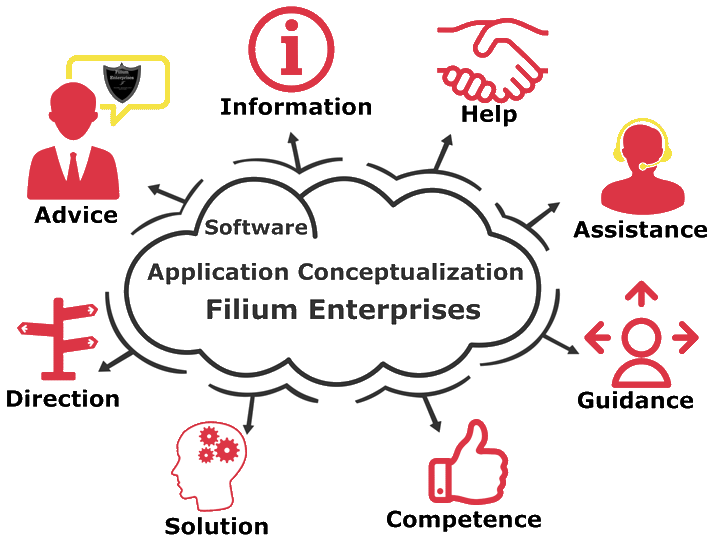 Is a custom Software a good option for your company?
Filium Enterprises outsource software development service offers software application conceptualization service allowing end users to convert their real world problem statements into an implementable software application.

So What Kind of Custom Software outsourcing projects does Filium accept?
Our customers turn to us for ADVICE on how Filium Enterprises custom software application conceptualization team can aid and transform the end user operational, computational, record management, storage and processing challenges into a bespoke custom software SOLUTION. We attain this by first sharing and exchanging vital INFORMATION with you based on our past experiences as a software development company within the outsourced software services industry along with bringing to this
process our domain level experience in tackling real life challenges businesses face that seek software to automate their business processes either by developing custom software through an outsourced service or using an off the shelf software system which is usually first customized to a certain extent and then functionally configured in most cases to perform the a set of business function the closest the software was designed for.

Filium enterprises Custom Software Development outsourced services HELPS companies to set clear operational requirements attainable by creative technology implementation. We provide ASSISTANCE to our clients management and operations team to set clear objectives, expectations and post software implementation operating procedures that the custom software would automate by performing exercises such as the as-is / to-be functional analysis and undertaking a methodic and extensive business analysis which includes all dimensions of the business requirement to ensure your company picks the right direction among several software options that may present themselves as viable alternatives a point in time.


Customers also approach Filium Enterprises Custom Software Development services to implement a custom software SOLUTION with a clear problem statement, management pain points, and inferred operational roadblocks to efficiency and the road to a more profitable future.This situation where a Custom Software Development service is required arises due to the absence of another pre-existing software product in the market which can perform the actions the user wishes to automate effectively within their industry. Off the shelf software products usually assume that the end user company will adapt or is willing to adapt and change their existing processes to accommodate the off the shelf software's processes. One may simply expect this to work well, but is quite unrealistic, and there are innumerable cases where companies try to use a seemly affordable and in many cases very expensive software as a short cut to their operational and growth challenges.

We have compelling and surprising case studies where companies spent as little as a few hundred dollars to millions in projects which later proved to be an absolute failure due to lack of foresight. The reasons this approach has high rate of failure range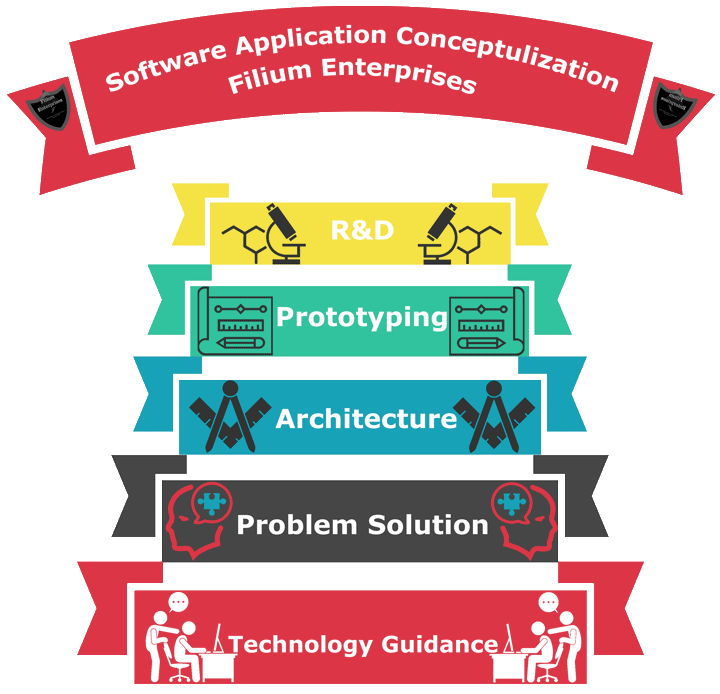 from operational complexities which are hard to map to an existing software, the lack of proper identification of real gaps in pre-existing and off-the-shelf software processes that do not meet the unique business requirement the client effectively, host of data incompatibility issues in many cases embedded too deep to be easily discovered until it's too late, and most the important factor - the human reasons such as resistance to change even if the off the shelf software adheres to the best industry practices. In many cases the management fails to seek professional strategic GUIDANCE from business software experts such as Filium Enterprises which can steer the investment into software and automation in the correct direction which lead to attained results and a much healthier ROI.

Each business has a design and formation which it grows into since its inception. Over the years process trails convert into a high volume transaction pathways that are not easy to alter. Filium Enterprises' custom software application conceptualization service team understands these real challenges business face. We discover for our clients the cost their businesses pay due to not addressing these challenges and compare it to the cost of the most feasible, optimum, scalable application that converts the existing process pathways into secure, traceable and automated data conduits of digitized business INFORMATION with added intelligence outputs enabling everyone from the operational staff to the management to do a better job for their customers.

Our application conceptualization and SOLUTIONS expertise stems from a multi-faceted experience in business, commerce, operations and management expertise in a variety of product and services industries across the world from small businesses to multi-domestic and multinational corporations.

How to get started with a Custom Software Development project?
To initiate a contact please proceed to fill in one of the request INFORMATION forms and try to articulate your problem statement as much as you possible can and our customer ASSISTANCE team will contact you to schedule a detailed SOLUTION exploration call, and a walk-through of our software application conceptualization and fulfillment processes. i.e. to show you what we can do for you and how we do it.