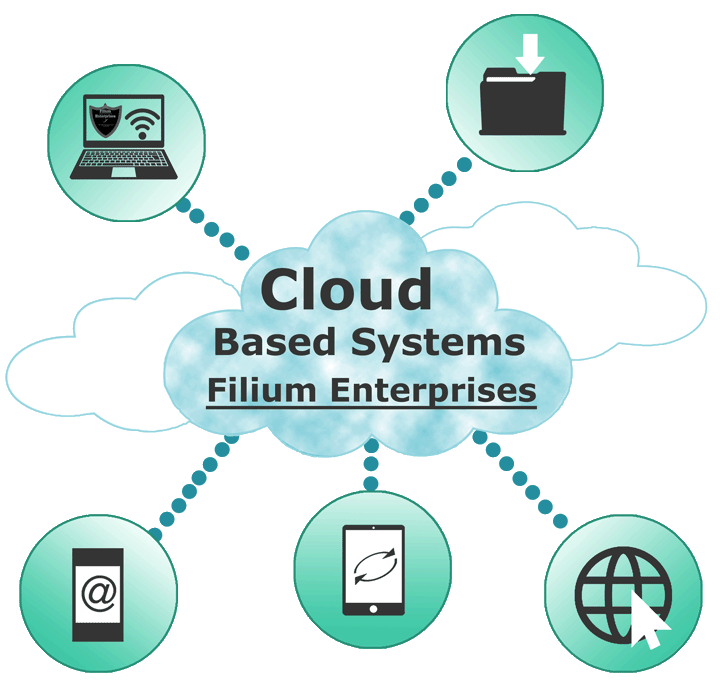 What is a CLOUD-BASED system?
Marking its roots from RJEs (Remote Job Entry) in the early 1960s, Cloud Computing swooped in with a big bang with the dawn of the 21st century with all big names in the market and the world like Amazon, NASA and later Google taking up this potentially grand concept to practical usage with the release of Elastic Compute Clouds, Google App Engines, etc.

By the late 2000s, experts saw this as an opportunity to "to shape the relationship among consumers of IT services, those who use IT services and those who sell them" and observed that "organizations are switching from company-owned hardware and software assets to per-use service-based models" so that the "projected shift to computing ... will result in dramatic growth in IT products in some areas and significant reductions in other areas."
Cloud computing is shared pools of configurable computer system resources and higher-level services that can be hastily provisioned with minimal management effort, often over the Internet. Cloud computing relies on sharing of resources to accomplish coherence and economies of scale, similar to a public utility. Systems connected to the cloud and using Cloud Computing for their proper functioning are called Cloud based Systems.


How does Filium Cloud Enablement work ?
Filium Enterprise's Cloud based Systems:
Here at Filium Enterprise, Our Cloud based Systems are up and functional and are efficient when it comes to handling day to day activities. When it comes to handling big data, cloud-based systems here at Filium Enterprise are doing an exceptional exertion in keeping the Company's core data intact and well-organized.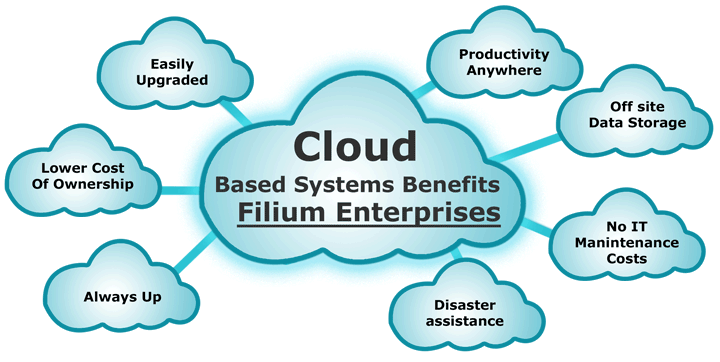 Our Cloud Services are always (24-7) up and running. The cloud servers here at Filium are functional (24-7) to meet the customer's as well as the company's day to day demands, and this is done remotely on servers so that is another advantage of course. The Cloud servers here at Filium Enterprise are very inexpensive to maintain. Hence, the cloud computing services here at Filium Enterprise are very easy and economical to manage and also to oversee and modify when required. The cost of ownership of our Cloud based servers are very low and hence are very economical to preserve and uphold.

The Cloud based Systems here at Filium Enterprise are very easily economical to higher capacities. This is a very effective feature in the long run to keep up with the ever-growing increase in demands for cloud-based services and the usage of all these cloud-based servers on a global scale. By 2030, it is estimated that about HALF the world's population is going to be online in the mainstream internet, hence a massive population of cloud-based service users are on their way. Filium Enterprise is prepared to facilitate all these drastic changes in the internet audience thanks to our upgradable Cloud-based system. This will help make more people of diverse nature connect to us through our cloud-based services, and we as a company can grow and expand even further with such a large client count on our hands. Our cloud-based services will certify a smile on each of our clients.

What are some Filium Cloud Salient Features?
Our cloud-based systems are accessible anywhere in the world, which means that anyone can take up our cloud-based services and feel the benefits of cloud computing. Filium Enterprise's Cloud Computing services have a resourceful productivity anywhere on the globe and this will bring us closer to all our clients irrespective of their ethnicity and background and help us thrive as a company even further.

Accessibility is not just limited to a computer rather it is accessible through many platforms hence all users having different platform preferences can utilize our cloud-based services to their maximum and benefit from all the perks cloud-based services have to offer. Be it your android, your chrome, your laptop through Wi-Fi, your tablet, your smartphone 4G network, whatever, Filium Enterprise's Cloud based Systems are accessible to all.

Here at Filium Enterprise, all your data are stored in off-site storage facilities, practicing off site data storage. Offsite storage is any data storage resource or facility that is not physically present inside the organization. It is a physically remote data storage resource that is mainly used to provide data backup and recovery services. Offsite storage is primarily used to replicate and back up data from a local storage device or facility to a storage facility located away from the client's main premises. The key objective behind offsite storage is to maintain backup copies of data, in case the primary site is offline, unavailable or is destroyed. This makes sure everything you upload into our clouds are physically secure in our servers off-site and this ensures better reliability on our cloud-based services. Your data to Filium Enterprise's is of utmost priority and significance, and any disturbance to that should not be tolerated and this is why you can trust the effectiveness of our cloud-based servers thanks to off-site data storage.

In case of an unlikely circumstance of a disaster of data loss or any other dire situation, our cloud servers will have had your data physically backed up elsewhere on remote off-site data storage facilities. This will ensure your data is not meddled with in adverse times and help us keep our reputation and reliability intact.

For our cloud-based systems and services, there are no IT related maintenance required. The services and systems are well up to date and functioning and are very efficient when it comes to handling large data sheets and running day and night.

Here at Filium Enterprise, we care about our customers' satisfaction. We can only ensure this if we keep your data safe and secure. This is exactly what our Cloud-based Systems and Services accomplish.