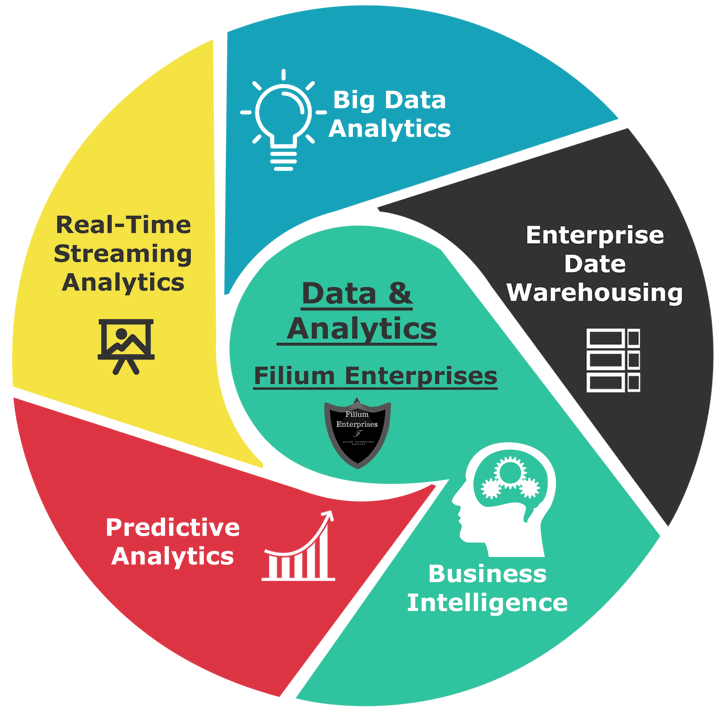 DATA ANALYTICS Outsourcing Why do you need a DATA ANALYTICS outsource partner?
When it comes to managing your personal data and reporting their analytics and relevant graphs, Filium Enterprise doesn't keep any stones unturned and thus tries to fulfill important demands that clients require when it comes to preserving data, such as data security, handling big data, etc. These personal data are what defines our clients and customers for who they are and any interference with such sensitive data should not take place in the first place, and that is what Filium Enterprise ensures to keep happy and satisfied clients.

How does Filium Enterprise's Data and Analytics services work?
There are numerous measures and features taken up by Filium Enterprise that make sure Data and Analytics provided by Filium Enterprise are top notch. REAL-TIME STREAMING ANALYTICS, big data analysis, PREDICTIVE ANALYTICS are just a few to name.
As more and more data are generated from a variety of connected devices and sensors, transforming this data into actionable insights and predictions in near real-time is now an operational necessity. Here at Filium Enterprise, our REAL-TIME STREAMING ANALYTICS seamlessly integrates with your devices to enable powerful real-time analytics on data from your IoT devices and applications. This really comes in handy when you need to monitor all your data in real time simultaneous from your devices to keep track of trends and data.


When it comes to BIG DATA ANALYTICS, our team at Filium Enterprise doesn't back down in giving you unhindered big data processed in our servers and managed in optimal state. On a broad scale, data analytics technologies and techniques provide a means to analyze data sets and draw conclusions about them to help organizations make informed business decisions. BIG DATA ANALYTICS is a form of advanced analytics, which involves complex applications with elements such as predictive models, statistical algorithms and what-if analysis powered by high-performance analytics systems. Driven by specialized analytics systems and software, as well as high-powered computing systems, BIG DATA ANALYTICS offers various business benefits, including new revenue opportunities, more effective marketing, better customer service, improved operational efficiency and competitive advantages over rivals. Our BIG DATA ANALYTICS applications enable big data analysts, data scientists, predictive modelers, statisticians and other analytics professionals to analyze growing volumes of structured transaction data, plus other forms of data that are often left untapped by conventional BUSINESS INTELLIGENCE (BI) and analytics programs.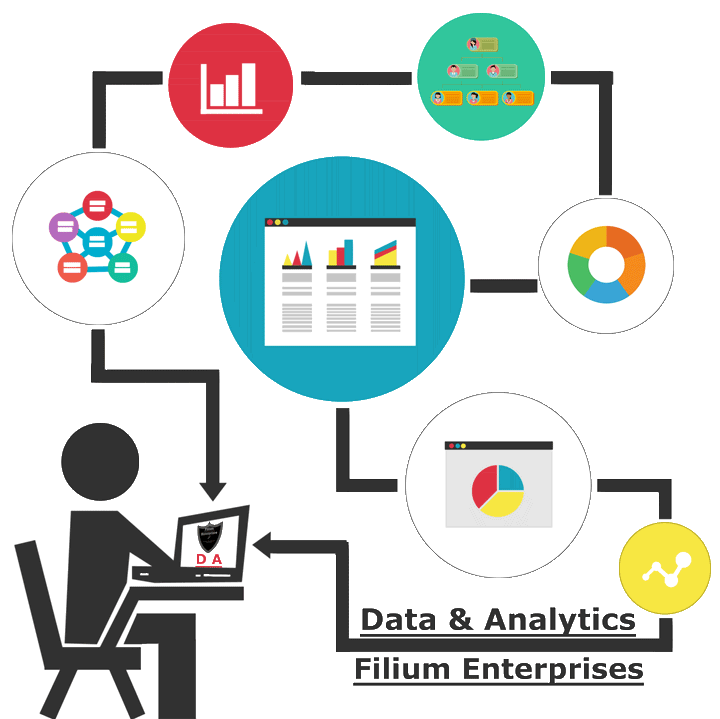 That encompasses a mix of semi-structured and unstructured data -- for example, internet clickstream data, web server logs, social media content, text from customer emails and survey responses, mobile phone records, and machine data captured by sensors connected to the internet of things.


Filium Enterprise also implements the features and benefits of Data Warehousing. Typically, a data warehouse is a relational database housed on an enterprise mainframe server or, increasingly, in the cloud. Data from various online transaction processing (OLTP) applications and other sources are selectively extracted for BUSINESS INTELLIGENCE activities, decision support and to answer user inquiries. A data warehouse stores data that is extracted from data stores and external sources. The data records within the warehouse must contain details to make it searchable and useful to business users. Taken together, there are three main components of data warehousing that are taken into consideration by Filium Enterprise:
data sources from operational systems, such as Excel, ERP, CRM or financial applications;
a data staging area where data is cleaned and ordered; and
a presentation area where data is warehoused.

Our Data analysis tools access the data within the warehouse. Our Data warehouses can also feed data marts, which are decentralized systems in which data from the warehouse is organized and made available to specific business groups, such as sales or inventory teams. Filium Enterprise's Data warehouses can benefit organizations from an both IT and a business perspective. Separating the analytical processes from the operational processes can enhance the operational systems and enable business users to access and query relevant data faster from multiple sources. In addition, data warehouses can offer enhanced data quality and consistency, thereby improving BUSINESS INTELLIGENCE.

BUSINESS INTELLIGENCE (BI) is a technology-driven process for analyzing data and presenting actionable information to help executives, managers and other corporate end users make informed business decisions. Filium Enterprise inculcates this feature for user satisfaction by the data and analytics. Filium Enterprise's BUSINESS INTELLIGENCE feature encompasses a wide variety of tools, applications and methodologies that enable organizations to collect data from internal systems and external sources; prepare it for analysis; develop and run queries against that data; and create reports, dashboards and data visualizations to make the analytical results available to corporate decision-makers, as well as operational workers. The potential benefits of our company's BUSINESS INTELLIGENCE tools include accelerating and improving decision-making, optimizing internal business processes, increasing operational efficiency, driving new revenues and gaining competitive advantage over business rivals. Our BI systems can also help companies identify market trends and spot business problems that need to be addressed.

Filium Enterprise's BUSINESS INTELLIGENCE data can include historical information stored in a data warehouse, as well as new data gathered from source systems as it is generated, enabling BUSINESS INTELLIGENCE tools to support both strategic and tactical decision-making processes.

PREDICTIVE ANALYTICS is the practice of extracting information from existing data sets in order to determine patterns and predict future outcomes and trends. Our PREDICTIVE ANALYTICS algorithms are up the charts when it comes to figuring out market trends and hidden market transaction patterns. Filium Enterprise's PREDICTIVE ANALYTICS algorithms combine multiple variables into a predictive model capable of assessing future probabilities with an acceptable level of reliability. The software relies heavily on advanced algorithms and methodologies, such as logistic regression models, time series analysis and decision trees. Our PREDICTIVE ANALYTICS algorithms and softwares have grown in prominence alongside the emergence of big data systems. Our enterprise has by now amassed larger and broader pools of data in Hadoop clusters and other big data platforms, hence creating increased data mining opportunities to gain predictive insights is a productive measure.

Showing you the desired Data and analytics in a very organized and interactive manner, using informative graphs and instructive charts, is what Filium Enterprise is set to accomplish, and this is how we as a company can keep out clients informed of what is happening inside our big data servers and helps keep a transparent glass between our functioning and the clients and customers.