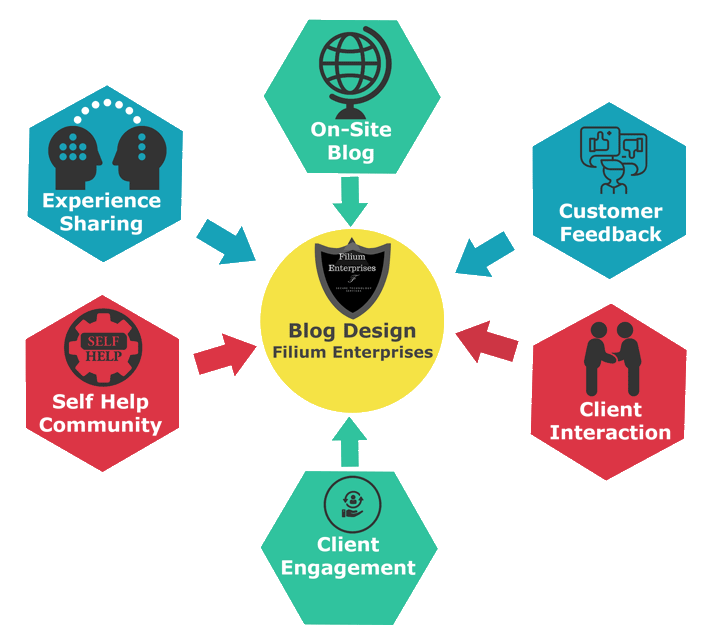 BLOG DESIGN Why do you need a BLOG DESIGN partner?
Establishing a clad foot on the world of blogging can prove to be cooperative and very beneficial in the long run. Blogs, these regularly updated websites or web pages, written in an informal or conversational style, speak to the masses of the digital market audience looking for reviews and suggestions from various such forums to shape their product options and their opinions towards various companies and service providers. Filium Enterprise has thus also launched their own blogs on for our clients to visit and have a better experience with thousands of other clients all gathering in such forums to discuss freely about the products and services.

Filium Enterprise runs a blog simplified with unsophisticated design with various attractive hyperlinks and informative forums and
discussions. This blog is fully integrated into our official website. This enables FULL SITE Integration, very essential for clients switching between our website and our blog for a much faster and simple user experience.

Our experts here at Filium Enterprise have a powerful algorithm using analytics tool, which helps us get a much more informative overview of the user experiences, usage and visits, and various other aspects. BLOG ANALYTICS are indispensable when it comes to figuring out if our clients are satisfied with our user interface and products and services or not, by deciphering out trends and patterns in our BLOG ANALYTICS.
Filium Enterprise has a blog running on SMART MODERATION with our clients, giving them an option to put their reviews on various products and services, through comments, discussions, likes and dislikes, reviews, stars, etc. This helps make the user experience more important for both the clients and us as a company. These analytics and reviews help us put up patches and make better products and provide better services. User satisfaction is the key goal of our products and services.

Contents uploaded by our team at Filum Enterprise are 100% original content. These contents are being brought up by our experts who have worked long hours to come up with something useful and informative, only then is their content allowed to be uploaded. Proper screening is done on the contents uploaded to point out plagiarism. At the end of all these screenings and tests is an ORGANIC CONTENT, original by its roots and very informative and interesting to grasp the attention of our wandering clients. This way, the clients are aware of the services provided by Filium Enterprise.
Blog designing in Filium Enterprise has both DIRECT BENEFITS as well INDIRECT BENEFITS, involving links and middlemen, enriching the user experience with rewards and benefits for our clients.

Thanks to Filium Enterprise's web development portals, clients can create blogs with the enhanced Blog Designing services provided by Filium Enterprise. Clients can easily make artistic blog with various designs with their personal touches of interactive hyperlinks and user interface, which are then integrated with the official Filium Enterprise website to ensure customer satisfaction. Clients' blog designs can be made very attractive and informative with ORGANIC CONTENT and various measures to take in feedback in the form of likes, comments, stars, reviews, discussions on forums, etc. This blog design helps clients write their minds on the various services provided by Filium Enterprise and share their experiences with others visiting their blogs through discussions and forums, connecting clients to one another and also ultimately, connecting clients to Filium Enterprise as well.

How do we make your blog design better?
For this we depend mostly on our clients to share their experiences, so we can make the blog design better and more enriching for better client satisfaction.

Our ON-SITE BLOG is a big step in integrating our official website with our informal blog and forums. This helps bring in an informal and more "friendly" experience into the user experience, making it easier for them to come to a decision when browsing our products and services Filium Enterprise provides.

CUSTOMER FEEDBACK is one of most important aspects of our company as we work towards a happier and more satisfied client-base. Our blog design helps connect Filium Enterprise to our clients in CUSTOMER FEEDBACKS, for us a company to hear out the demands and patches or improvisations required in our products and services.

CLIENT INTERACTION is another important aspect our blog design boasts upon. Clients can visit our blog to experience a very informative and interactive client interactive session to talk to other clients and share their involvements and knowledges.

Filium Enterprise's Blog Design enables CLIENT ENGAGEMENT in various interactive activities and other modes of interactions, such as discussions, forums, comments and reviews, etc.

SELF HELP COMMUNITY in Filium Enterprise's is good community helping clients visiting our blog to form self-help blogs, forums, etc.

The interactive nature of Filium Enterprise's Blog Designs help attract clients to come to our blog and share their experiences. Our blogs enable EXPERIENCE SHARING as an important tool to shape user opinions by simply interacting with one another. EXPERIENCE SHARING helps clients confused with our products and services to come to a final decision.