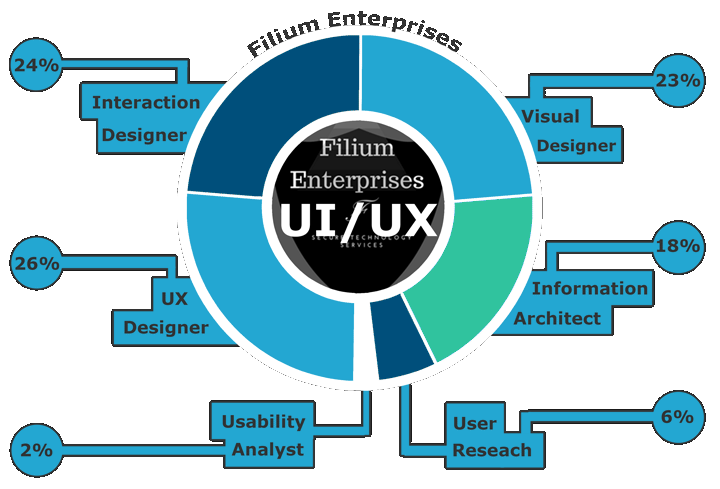 UI / UX DESIGN Why do you need a UI / UX DESIGN partner?
User Interface and User EXPERIENCE is how Filium Enterprise makes sure our customers are satisfied and will summon our services again someday. It is very crucial that our team at Filium Enterprise gets these aspects right, as the user interface and user EXPERIENCE will decide our consistency in the ever-expanding digital market.

Filium Enterprise's User Interface is designed very efficiently to encapsulate the needs and goals of the digital market audience. It is visually filling for the clients to have a reasonable user EXPERIENCE.

Our team at Filium Enterprise forms an Information Architecture, describing the ways in which information is formally packaged within our servers. It forms a structural design of shared information
environments. Filium Enterprise excels when it comes to inculcating information Architecture and in the art and science of organizing and labelling websites, intranets, online communities and software to support usability and findability. Typically, our team considers a model or concept of information that is used and applied to activities which require explicit details of complex information systems. These activities include library systems and database development.


Our experts at Filium Enterprise have developed User Interface design patterns to keep a simplistic yet pleasant EXPERIENCE for our clientele.

The User Interface is made interactive with buttons and hyperlinks giving functionality to each element. These elements integrate to form something much bigger and clearer for a much better User EXPERIENCE.

The content included have been handpicked by our team at Filium Enterprise to extrapolate all the necessary details we aim to provide to our clients. The terminology plays an important role as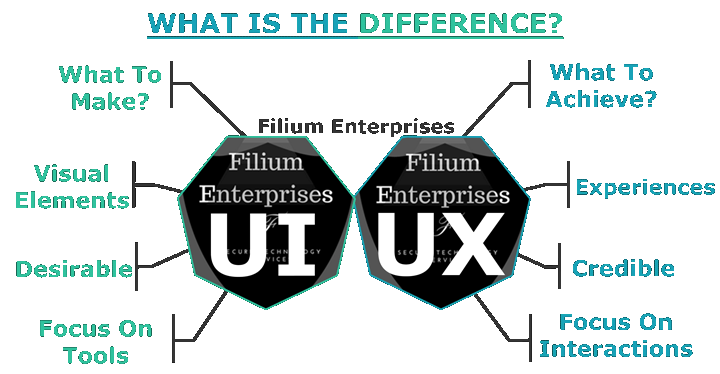 well to crave out a more simplistic and understandable user EXPERIENCE.

Difference between UI and UX:
UI refers to User Interface, meaning, the interface which the client has to put up with first, providing the user all the visual aids required to satisfy him/her. It is the visual aspect of the product and should attract a larger digital market audience. It is a DESIRABLE trait rather than a crucial one which mainly FOCUSES ON THE TOOLS. UX on the other hand refers to the User EXPERIENCE which our company wishes to achieve from our clients' reviews and opinions. It is rather an EXPERIENCE than mere VISUAL ELEMENTS, meaning it inculcates all the interactive elements of the product along with various content and hyperlinks. It is a more CREDIBLE aspect of the whole site and it hence focuses more on interactions.


UI / UX percentage-based segregation:
Interaction Designer - 24%
UX Designer - 26%
Usability Analyst - 2%
Visual Designer - 23%
Information Architect - 18%
User Research - 6%